The Bulgarian Building Boom
Off-plan or Off Your Trolley?
A British sales agent on the Black Sea coast during the summer seasons of 2002-2006 gives his opinion.
'It all seems so attractive – instead of slogging around the Bulgarian countryside searching for the elusive perfect house, setting up your company, finding lawyers, builders and accountants, why not invest in a brand-new apartment by the sea, in Sunny Beach or Sveti Vlas, reserved over the Internet for only a 10 percent deposit, completion guaranteed by May 200X, full on-site facilities including swimming pool, bars and restaurants, and only steps from pristine, empty beaches?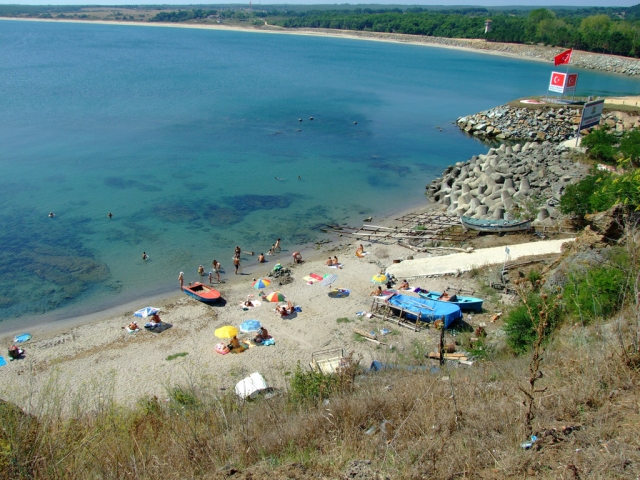 'Remember, though, if it sounds too good to be true, it is! I spent a summer working as a sales manager for an impressive new holiday village on the Black Sea coast, and can offer the following pieces of advice for anyone intending to go off-plan in Bulgaria. UK property exhibitions – forget them. The staff know nothing about the country, are only interested in their commissions, and will be off to the next "hot property" location tomorrow. Inspection trips-forget them. You can get better deals via travel agents, stay where you want, visit a Bulgarian real estate agent and a few projects, and avoid the hard sell.
Glossy computer-generated virtual tours – forget them. Go and visit the site yourself, see the sea views personally, and check out the neighbourhood. Building guarantees – forget them. Check if the company has built anything that has lasted over 10 years instead. Building booms mean skill shortages and lower-quality buildings. Rental return guarantees-forget them. Same with return on investment projections. Penalties for building delays – forget them. There are more loopholes in these promises than empty hotel rooms in Sunny Beach. All-inclusive furniture packages – forget them. You can find better quality and/or cheaper goods in local shops. Management contracts with fixed yearly payments – forget them. Management companies can be sold on and you'll never know who you will deal with in the future. Service charges can go up, essential repairs to common parts and landscaped garden can be poorly done, and it's a hell of a job to organise multiple holiday-home owners to club together and get repairs done.'I'm saying that there are a lot of good deals out there, but not all deals are good!'
One thing that everyone interested in investing in Bulgarian holiday properties is that the properties situated in exclusive locationsnever loose their value and will always make you good profitsin the future. It is better to buy a studio on the first line with sea view than a 2 bedroom apartment somewhere in the middle or at the end.
For the people looking to buy a holiday property for themselves and are not concenrned that much by the investment potential I would recommend them to visit multiple locations and grasp a feeling of the area and then choose the property that they like the most, in most of the times the least developed areas are the best for holidays.
Besides the beautiful Bulgarian Black sea coast and all the beach resorts along it Bulgaria has 3 first class ski resorts and a few smaller resorts. In case you are keen on the ski sports or just enjoy the winter more than the summer or you want to invest in a mountain resort rather than in a beach resort then you will have to visit Bansko, Borovets or Pamporovo or if you want to make a longer term investment you can consider Berkovitsa. For the ski resorts it is not that much important to be next to the lift as long as the complex is well arranged and provides regular transport to the gondola lift. So in the ski resorts it is more important to chose a bigger complex with all amenities such as spa center, restaurant, bar etc rather than buy something in small building which does not provide any additional entertainments.
Bulgaria has some really good SPA resort as well, in case you are looking for a place to retire I believe that a SPA resort or ina village near is a good option. Such places are Sandanski, Hissarya, Varshets, Banevo and others.
The long story short, if you want a place to relocate to live permanently it is good to buy in a small village near a town so you will enjoy privacy and calm life and at the same time you will be close to the entertainments and amenities that town has to offer. If you are looking for a vacation home then you would better buy apartament or a house in a complex where you will have maintenance and amenities next to you. If you are looking for a speculation or investment then you should look at all attractive locations in Bulgaria.