Albena and Golden Sands – Zlatni Pyasutsi
The two resorts of Albena and Golden Sands are just a few kilometres from each other, along the coast road, north of Varna.
Albena has a late 1960s feel, with a swinging collection of pyramid-shaped hotel rooms and all the facilities needed to spend your whole holiday on site. The hotels have a terraced structure aimed at providing as much sun as possible during the long summer days. It is also one of the most expensive places in Bulgaria, so if you end up here on holiday or on a property-hunting trip, don't judge the cost of living elsewhere in Bulgaria by prices here.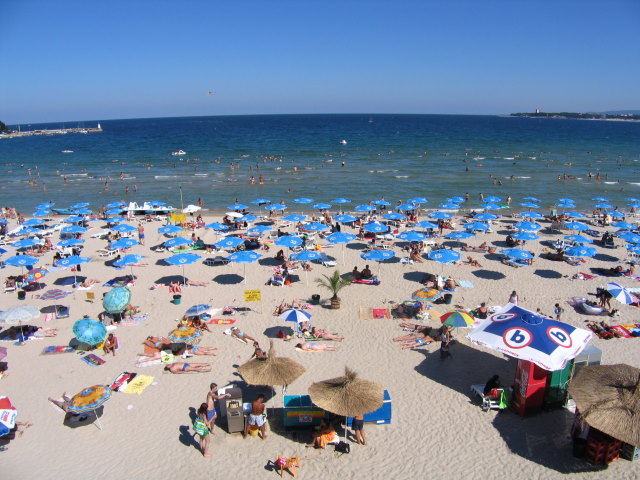 Albena is well maintained and smaller than the neighbouring Golden Sands and is well signposted off the main coastal road. Anyone considering buying property nearby should consider the wealth of resources that the resorts offer. Though it is relatively expensive, the beach, cafes and shops in the resort provide a handy place to nip and in and out of from your holiday home. Some people find it a bit sterile, however, and it may not be everyone's cup of tea.
Golden Sands was Bulgaria's first international resort, opened in 1956, and was once the largest resort along the Black Sea coast. It occupies more than 1,800 hectares of land. Located 18km north of Varna, the resort's hotels and apartment complexes occupy a gentle, sloping forest by the area's greatest asset – a 4km strip of soft, golden sand sloping gently into a sea safe for swimming. The resort offers a wide range of activities, as well as the usual bars, nightclubs and restaurants. There is a range of activities including scuba-diving, water-skiing and plenty of other beach sports. Many of the hotels have been converted in recent years to cater for the growing demand for apartments. There are also numerous off-plan offers costing €650-1,700 per square metre. From here you can easily access Varna and its handy airport, with direct flights t0 UK. Inland there are many historic sights and acres of forests and rural villages to explore in the region's vast and sparsely populated hinterland.