Vineyard Investment in Bulgaria
The idea of owning a vineyard is a dream for many people, and one that is quite possible in Bulgaria. Small plots for home produce and commercial vineyards are both attracting investors. There are now one or two agents specialising in such properties, and many rural properties come complete with a small vineyard.
In Bulgaria vineyards can be purchased for €500-2,500 per 1,000 square metres, depending on the condition and quality of the vines, and the wine region.This compares to vineyards costing €4,000 per 1,000 square metres at the lower end in other EU countries, so purchasing vineyards in Bulgaria provides good value for money.The demand for such properties is quite high, as after 2007 no new vineyards can be planted, owing to a restriction on wine production under the EU Common Agricultural Policy.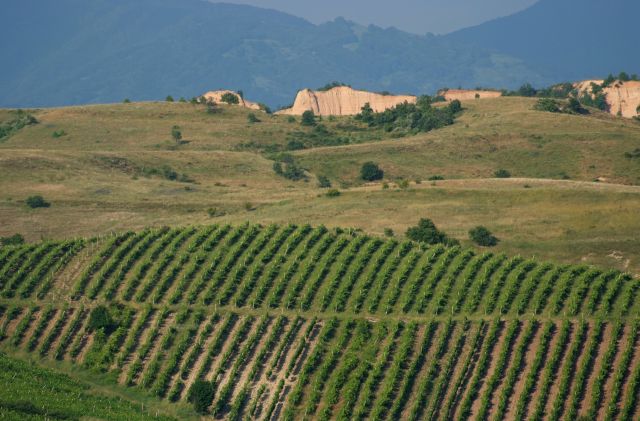 The Bulgarian wine industry has gone though a lot of change in the last 10 years but is now emerging as a healthy industry once again. Under Communism in the 1950s massive plantings of international grape varieties were dedicated to wine for the Soviet Union. By 1966 Bulgaria had become the sixth-largest wine exporter in the world. Nowadays the country still exports almost half the wine produced (which is mostly based on Bordeaux red). However, from the 1980s onwards there was a decline of Bulgarian vineyards (down 22 per cent from 1990 to 1999), mainly because exports to the Soviet Union decreased.
Nevertheless the potential for wine-making in Bulgaria is enormous. The climate in the northern part of the country is continental, with cool winters and hot summers. It is milder to the south because of the influence of the Black Sea and the Mediterranean. The hilly local terrain creates ideal microclimates for growing vines, and combined with good soil provides extremely suitable conditions for growing high-quality grapes.
Vineyards used for commercial wine production and for selling wine in EU countries must be licensed. Some specialised agents can help with the purchasing and managing of vineyards. Bulgarian Property Advisors Ltd offers its customers help to buy and register vineyards in Bulgaria. Stara Planina Properties, one of the first British real estate companies, has experience in all aspects of planting and managing vineyards and offers a specialised consultancy and support service. For an example of an excellent new Bulgarian winery.
For vineyards and other properties for sale in Bulgaria visit our website. : www.bestbgproperties.com