Plovdiv and the Surrounding Region
Bulgaria's second largest city, Plovdiv, is located 75km from Pamporovo. This is one of the most attractive and vibrant centres in the country, a picturesque town full of parks and gardens, museums and archaeological monuments.
Plovdiv is situated on the river Maritza and has an interesting past. Only fragments of the city's ancient buildings – the city forum, the stadium, the amphitheatre of Philip II of Macedonia (Alexander the Great's father, who founded the city as Philipopolis), basilicas, hot springs and residences – remain today, but columns, capita Is, friezes, mosaics and bas-reliefs mark the city landscape. The 2nd-century amphitheatre has been completely restored and hosts outdoor performances.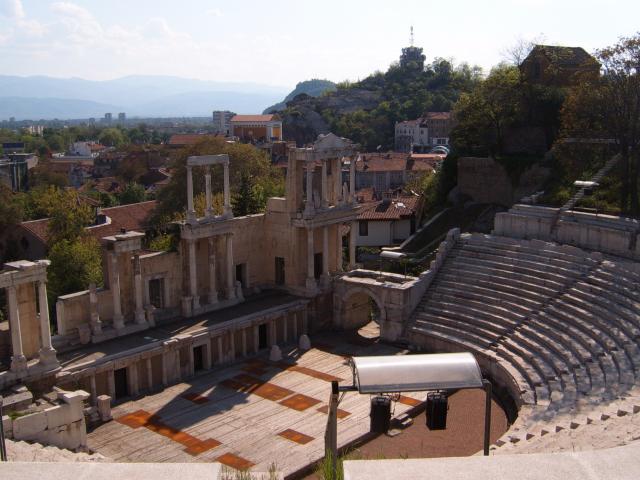 Plovdiv has one of the largest conference centres in Bulgaria, where business people gather from all over the world between May and September. Among the most interesting trade fairs is the International Vineria or Wine Fair in March. This is the largest wine fair in eastern Europe and might make a tempting break from house-hunting for a few hours.
The Plovdiv field is formed by the river Maritsa and its inflows. From the North-west, north and nort-east are the hights of the Ihtiman, Sredna Sashtinska and Sarnena Sreda gora, to the east are the Chirpan hights, from the south the field borders with the Rhodope mountains, which is steep and high – arround 1300 metersa bove the sea level cut bu the gorges of the rivers Vacha, Stara reka, Yadenitsa, Chepinska and others.
In the town of the Plovdiv are situated six hills, called "tepeta" Until the beginning of the 20th century they were seven but one of them – Markovo tepe was destroyed for making stone bricks, which were used for making the streets in Plovdiv. The traditional names of the "tepeta" are: Dzhendem tepe, Bunardzhik tepe, Sahat tepe, Dzhambaz tepe, Nebet tepe and Taksim tepe. The last tree form the 3-way-hill which form the old town of Plovdiv which is in the centre of the modern town.
The climate is trans-continental, typical for most of the middle south parts of Europe. The average annual temperature is 12.3Β°C and the average maximal temperature during the month os July is 30.3Β°C and the absolute maximum during the month of July was measured in 2007 and is +45.0Β°C. The average annual minimal temperature is 6.5Β°C, and the absolute minimim is -31.7Β°C in a condition of temperature inversion.