Building a house from scratch and Bulgarian property renovation
Browsing through Bulgarian estate agents' property listings in Bulgaria, one cannot help but notice that a large majority of the properties for sale in Bulgaria require renovation work. Especially where rural properties in Bulgaria are concerned, you will often see the phrase suitable for renovation or in need of modernisation, with so many Bulgarians trading old rural dwellings for modern city life, there are a large number of very dilapidated rural houses in Bulgaria in need of total renovation.
Renovating an old rural house in Bulgaria and reselling such property in Bulgaria will almost always be a profitable exercise provide that you plan appropriately, or else the Bulgarian property renovation will make your property in Bulgaria more comfortable (and more lettable) now and increase the value when you resell later on. Even in the urban areas of Bulgaria, many Bulgarian properties will require some renovation work, even if it is just a fresh lick of paint and some new kitchen units.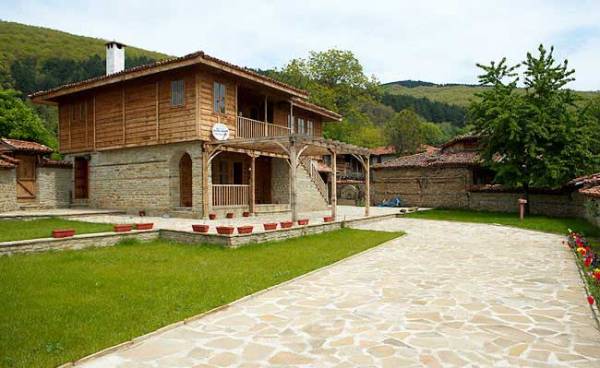 This article tackles Bulgarian property renovation works and will also look at building a new home in Bulgaria from scratch. Bulgarian houses have a unique character that distinguishes them from dwellings in other parts of Europe. The external aspects of traditional National Revival buildings, marrying white plaster with exposed stonework and beams, are delightful. Many of the old wattle-and-daub dwellings remain, too, even in the towns. Or else there is the more austere Communist style, boxy and plastered in drab colours, including a porch with square supporting column. The internal aspects of Bulgarian houses were generally built to optimise the number of uses of available space, so they can be somewhat labyrinthine, with a lot of small rooms leading off one another. Many have a glass 'summer kitchen' annexed to the house (sometimes even on the terraces of apartments in Bulgaria) that is used during the hot months; this means that the internal kitchens in Bulgaria tend to be quite small. Often there is a mexhana, too, which is the space where most of the entertainment takes place. The mexhana is generally in the basement and is decorated in traditional textures and colours, often with wood cladding. Bathrooms are generally wet-rooms with no bath or means of containing shower water further than a drain in the floor. In rural properties in Bulgaria, toilets, and stairs leading between floors, are often located outside.
Furthermore, small incomes and technological torpor have traditionally limited the maintenance and property modernisation of homes in Bulgaria (such as U-bend pipes to allay the smell of sewers). And nostalgia for the past-including exposed beams and stonework – has not yet overtaken the novelty of modern living, with the consequence that many features that are delightful to westerners might be hidden under wood or plastic ceilings, linoleum floors and plasterboard.
In the light of these points it is not surprising that most foreigners will seek to undertake some property renovation work of their new home in Bulgaria. If you are not modernising the exterior, then you may be repairing it or emulating a traditional style. Inside the house you may aim to create open-plan living by knocking down walls, to expose traditional features such as stonework and beams, and to replace styles that, frankly, does not always please the western eye.
The Beautiful Bulgaria Project
This project has been responsible for the renovation of many public buildings in Bulgaria and spaces throughout Bulgaria over the last 10 years. It has been funded in the past by the EU, the United Nations, other donor countries and through funds from the Bulgarian state and municipal budgets. The project started in the city of Sofia but has grown to include nearly 100 municipalities in all regions of Bulgaria. The vast majority of those working on site were selected from the
employment registry and trained in specific building skills. The project has proved so successful that it is now also being adopted in other countries throughout the world.