Borovets – Bulgaria
Ski Facilities in Borovets
Borovets is an alpine-type resort and provides very good conditions for winter sports such as skiing (both day and night), snowboarding, cross-country skiing, ski jumping, biathlon and skidoo. Thereareski runs for beginners, intermediate and advanced skiers designed with international markings and multilingual signs. Pistes are maintained to a high standard.The resort is a regular host of sports competitions: it has twice hosted World Cup competitions in alpine skiing and its biathlon track is one of the best in Europe. Borovets has developed into a modern ski resort of a high class, and has luxury hotels, restaurants, clubs, shops and a good choice of pistes and lifts.
Places of Interest
Borovets offers scores of scenic routes including many guided ski routes. Organised trips lead to picturesque spots in the Rila mountains such as the Seven Rila Lakes, Malyovitsa Peak and Moussala Peak. A photo safari and a visit to the former Bulgarian tsar's residence of Bistritsa are other attractive options.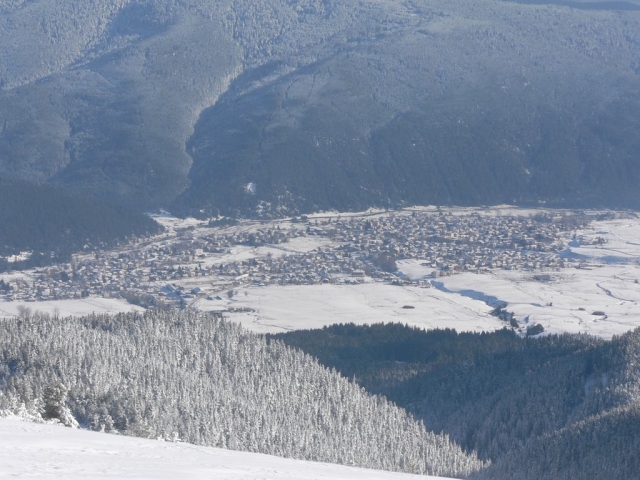 Trips are offered to Melnik, with its unique pyramids and famous wines, and to Sofia, Plovdiv and Rila Monastery. In the northwestern part of the Rila mountains, Rila Monastery is the biggest and most famous of Bulgaria's monasteries, and one of the most significant monuments on the Balkan Peninsula. It was founded by a hermit, St John of Rila, in the 10th century, and eventually became a monastic complex, which played a primary role in the spiritual history of medieval Bulgaria.
Having survived fire, abandonment and plunder, the monastery fascinates visitors today with its exquisite architecture, rich murals and icons, and valuable museum collection, including old manuscripts, jewellery, textiles, church treasures and a library containing thousands of books. The monastery is also the burial place of the Scot James Bourchier, correspondent of The Times, who was based in Sofia during the turbulent latter part of the 19th century. He lived in Bulgaria, and after sending home many reports of Turkish atrocities helped to stir up public opinion in Victorian Britain that something must be done to stop further oppression of the Bulgarian Christian population under the Ottoman yoke.
Malyovitsa is a small resort, but no other Bulgarian resort can compare with its beauty and grandeur. It is situated about 1,700m above sea level. There is good road access from the nearest village, Govedartsi (13km, see overleaf), and the town of Samokov (27km). Malyovitsa is a natural base for alpine sports; the highest alpine walls and the most difficult rock tours are located here.
Buying property in this area may be a good long-term investment; several wise Brits are buying in the surrounding villages with the aim of benefiting from this project in the future.
Β Around Borovets
The spa resort town of Dolna Banya is 30km to the east of Samokov. It has mineral water at a temperature of 56Β°C. The recreation campus is 5km to the south, with many facilities and children's camps. There are tourist chalets as well as marked hikingtrails across eastern Rila.
The Pchelin spa complex is located in a picturesque mountainous area not far from Sofia. It lies 9km from the well-known Kostenets spa resort, 30km away from the Borovets ski resort and just 70km from the capital city, which makes it an increasingly popular destination. It is nestled in the woods of the 'khtimanska Sredna Gora, surrounded by a gorgeous wreath of oak and pine trees. The popularity of the Pchelin mineral springs dates back to ancient times. According to legend, soldiers of the Bulgarian king Samouil, as well as Bulgarian rioters during the Ottoman rule later on (the haiduti), used to come here to have their wounds healed. Local people tell stories of childless women who gave Dirth to cherished children after taking a bath in the mineral waters of Pchelin.
The holiday village of Govedartsi is 13km to the southwest of Samokov. It is a starting point for hiking tours in the Rila mountains. Just 3km outside the village there are holiday houses, recreational centres, private villas and a tourist base with 100 beds in bungalows. Among these is the Mechit Chalet, which has one of the best ski-runs in the country.